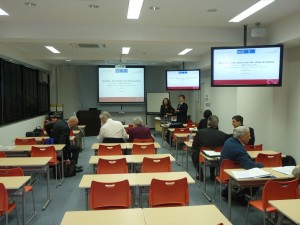 Am 26. und 27. März 2010 fand in Tokyo die International Conference – New Directions in Textual Scholarship statt, auf der das IDE durch Alexander Czmiel vertreten war. Er hielt einen Vortrag mit dem Titel TELOTA – The electronic life of the Academy über die Arbeit der Telota-Initiative an der Berlin-Brandenburgischen Akademie der Wissenschaften, in dem auch die Aktivitäten des IDE nicht unerwähnt blieben.
Die drei Hauptaspekte der Konferenz betrafen die Themen Digitalisierung, Interdisziplinarität und Globalisierung in den Editionswissenschaften.
Besonders die Keynote-Vorträge von Peter Shillingsburg und Dirk Van Hulle, in denen die (digitale) Zukunft der unterschiedlichen Editionstraditionen behandelt wurde, betonten noch einmal die Notwendigkeit einer disziplinübergreifenden und internationalen Zusammenarbeit bei der Entwicklung von Standards und Software-Tools.
International Conference – New Directions in Textual Scholarship