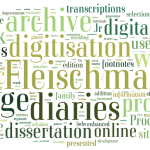 The Institute for Documentology and Scholarly Editing (IDE) is happy to announce the publication of issue 2 of our review journal RIDE. This time there are 5 reviews (4 in English, 1 in German) on publicly available scholarly digital editions. This is the table of contents:
16th Century Chronicle to 21st Century Edition: A Review of The Diary of Henry Machyn, by Misha Broughton
Der Zürcher Sommer 1968: Die digitale Edition, by Friederike Wein
The Digital Edition of the Becerro Galicano de San Millán de la Cogolla, by Francisco Javier Álvarez Carbajal
The Fleischmann Diaries, by Merisa A. Martinez
The Shelley-Godwin Archive: The edition of Mary Shelley's Frankenstein Notebooks, by Frederike Neuber
All reviews can be accessed free of charge at http://ride.i-d-e.de.