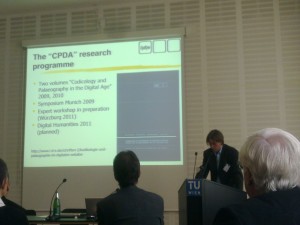 Nicht ohne Beteiligung des IDE findet vom 19. bis 20. Oktober 2010 an der TU Wien erstmalig die Konferenz "Supporting the Digital Humanities (SDH)" statt: "SDH2010 is the first conference that is jointly organized by the CLARIN and DARIAH initiatives, which are building the European research infrastructure for the humanities and related disciplines."
Zusammen mit Elena Pierazzo vom King's College London referiert IDE-Mitarbeiter Malte Rehbein auf der Konferenz über die Ergebnisse der Arbeitsgruppe zu textgenetischen Editionen. Rehbein stellt außerdem dem internationalen Publikum den Stand des IDE-Forschungsprogramms "Kodikologie und Paläographie im digitalen Zeitalter" vor.
Weitere Informationen auf der Veranstaltungsseite.
IDE supports the Digital Humanities