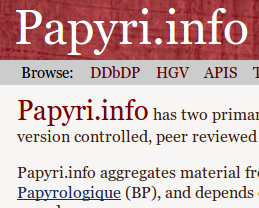 Thanks to a generous contribution of the Faculty of Humanities of the University of Graz, RIDE is pleased to announce the recipient of the fourth RIDE AWARD, worth 250 €, for the best review article published in RIDE.
The prize committee – Claudia Resch (Österreichische Akademie der Wissenschaften), Roman Bleier (Universität Graz), Stefan Dumont (Berlin-Brandenburgische Akademie der Wissenschaften), and Martina Scholger (Universität Graz) – has decided to award the prize to Lucia Vannini (University of London) for her outstanding Review of Papyri.info, published in issue 9 of RIDE.
In her outstanding review of the complex and historically grown platform Papyri.info, Lucia Vannini registers its strengths and weaknesses comprehensively and critically, showing her familiarity with the resource and the materials it comprises. The resource is contextualized in that scenarios for reuse and other projects making use of the materials are described. The jury especially highlighted that in the review article, not only the usage experiences of the reviewer herself are described but also the results of interviews conducted with other users. User expectations and potential misunderstandings are set out in a constructive way and sound suggestions for improvement are made by the reviewer.
Vierter RIDE-Preis vergeben / Fourth RIDE prize awarded