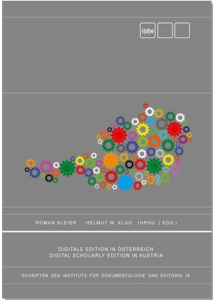 herausgegeben von / edited by Roman Bleier, Helmut W. Klug (Centre for Information Modelling, University of Graz).
Norderstedt: Books on Demand, 2023.
248 Seiten / pages, zahlreiche Abbildungen / numerous illustrations.
ISBN: 9783743102842
in collaboration with the IDE, the KONDE – Kompetenznetzwerk Digitale Edition project, and the Centre for Information Modelling at the University of Graz.
Between 2016 and 2020 the federally funded project "KONDE – Kompetenznetzwerk Digitale Edition" created a network of collaboration between Austrian institutions and researchers working on digital scholarly editions. With the present volume the editors provide a space where researchers and editors from Austrian institutions could theorize on their work and present their editing projects. The collection creates a snapshot of the interests and main research areas regarding digital scholarly editing in Austria at the time of the project.
Bezugsmöglichkeiten / Order
Gebundene Ausgabe: bod.de oder im lokalen Buchhandel für 39 EUR.
Hardcover book: bod.de or at your local bookstore for 39 EUR.
Online
Gesamtband / Full volume: https://kups.ub.uni-koeln.de/70479; urn:nbn:de:hbz:38-704790
Einzelbeiträge s.u. / for articles see below.
Inhaltsverzeichnis / Table of Contents
Preface
Introduction
Georg Vogeler: Einleitung: Gibt es eine österreichische Editionskultur? (V-XII)
OA: https://kups.ub.uni-koeln.de/70433; urn:nbn:de:hbz:38-704334
Methodische Aufsätze – Methodological essays
Tara L. Andrews: Where are the Tools? The Landscape of Semi-Automated Text Edition (3-18)
OA: https://kups.ub.uni-koeln.de/70445; urn:nbn:de:hbz:38-704455
Peter Hinkelmanns: Editionen und Graphentechnologie: Vorteile und Hürden digitaler Editionstechniken abseits von TEI-XML (19-36)
OA: https://kups.ub.uni-koeln.de/70446; urn:nbn:de:hbz:38-704461
Claudia Resch: Digitale Editionen aus der Perspektive von Expert:innen und User:innen — Rezensionen der Zeitschrift RIDE im Meta-Review (37-54)
OA: https://kups.ub.uni-koeln.de/70447; urn:nbn:de:hbz:38-704476
Markus Ender, Joseph Wang: Experience with a Workflow using MS Word and a DOCX to TEI Converter (55-68)
OA: https://kups.ub.uni-koeln.de/70448; urn:nbn:de:hbz:38-704483
Bernhard Oberreither: A Linked Data Vocabulary for Intertextuality in Literary Studies, with some Considerations Regarding Digital Editions (69-88)
OA: https://kups.ub.uni-koeln.de/70449; urn:nbn:de:hbz:38-106510
Daniel Schopper, Thomas Wallnig, Victor Wang: "Don't Worry, We're also Doing a Book!" — A Hybrid Edition of the Correspondence of Bernhard and Hieronymus Pez OSB (89-110)
OA: https://kups.ub.uni-koeln.de/70450; urn:nbn:de:hbz:38-704507
Sarah Lang: Digital Scholarly Editions of Alchemical Texts as Tools for Interpretation (111-132)
OA: https://kups.ub.uni-koeln.de/70451; urn:nbn:de:hbz:38-704518
Martina Bürgermeister: Versionierung von digitalen Editionen in der Praxis (133-150)
OA: https://kups.ub.uni-koeln.de/70452; urn:nbn:de:hbz:38-704525
Projektberichte – Project reports
Tara L. Andrews: Die Chronik des Matthäus von Edessa (Mattʿēos Uṙhayecʿi) Online (153-154)
OA: https://kups.ub.uni-koeln.de/70453; urn:nbn:de:hbz:38-704533
Roman Bleier, Eva Ortlieb, Florian Zeilinger: Der Regensburger Reichstag 1576 — digital (155-158)
OA: https://kups.ub.uni-koeln.de/70468; urn:nbn:de:hbz:38-704681
Astrid Böhm, Julia Eibinger, Helmut W. Klug, Christian Steiner: CoReMA — Cooking Recipes of the Middle Ages (159-160)
OA: https://kups.ub.uni-koeln.de/70455; urn:nbn:de:hbz:38-704552
Artur R. Boelderl: MUSIL ONLINE – interdiskursiver Kommentar (161-162)
OA: https://kups.ub.uni-koeln.de/70456; urn:nbn:de:hbz:38-704567
Ingo Börner, Vanessa Hannesschläger, Isabel Langkabel, Katharina Prager: Intertextuality in the Legal Papers of Karl Kraus: A Scholarly Digital Edition (163-165)

Ulrike Czeitschner: travel!digital (166-167)
OA: https://kups.ub.uni-koeln.de/70458; urn:nbn:de:hbz:38-704587
Ursula Doleschal, Lisa Rieger: Zweisprachiger Spracherwerb: Longitudinalstudie anhand schriftlicher Texte der Hermagoras-Volksschule — Digitalisierung, Auszeichnung, Auswertung (168-170)
OA: https://kups.ub.uni-koeln.de/70459; urn:nbn:de:hbz:38-704594
Claudia Dürr, Wolfgang Straub: Kommentierte Werkausgabe Werner Kofler (Prosa, Lyrik, Radio, Film, Theater) (171-172)
OA: https://kups.ub.uni-koeln.de/70460; urn:nbn:de:hbz:38-704605
Markus Ender: Kommentierte Online-Edition des Gesamtbriefwechsels Ludwig von Ficker (173-174)
OA: https://kups.ub.uni-koeln.de/70461; urn:nbn:de:hbz:38-704617
Konstanze Fliedl, Ingo Börner, Anna Lindner, Marina Rauchenbacher, Isabella Schwentner: Arthur Schnitzler — Kritische Edition (Frühwerk) III (175-176)
OA: https://kups.ub.uni-koeln.de/70462; urn:nbn:de:hbz:38-704627
Desiree Hebenstreit, Laura Tezarek, Christiane Fritze, Christoph Steindl: Andreas Okopenko: Tagebücher aus dem Nachlass (Hybridedition) (177-178)
OA: https://kups.ub.uni-koeln.de/70463; urn:nbn:de:hbz:38-704633
Peter Hinkelmanns, Katharina Zeppezauer-Wachauer: Mittelhochdeutsche Begriffsdatenbank (MHDBDB) (179-181)
OA: https://kups.ub.uni-koeln.de/70464; urn:nbn:de:hbz:38-704644
Mario Klarer, Aaron Tratter, Hubert Alisade: Ambraser Heldenbuch: Transcription and Scientific Dataset (182-183)
OA: https://kups.ub.uni-koeln.de/70466; urn:nbn:de:hbz:38-704662
Carina Koch, Lisa Brunner, Anna Huemer, Christoph Würflinger: Digitale Edition und Analyse der Medialität diplomatischer Kommunikation: Kaiserliche Gesandte in Konstantinopel in der Mitte des 17. Jahrhunderts (184-186)
OA: https://kups.ub.uni-koeln.de/70467; urn:nbn:de:hbz:38-704676
Philipp Koncar, Roman Bleier: InCritApp — Interactive Critical Apparatus (187-189)
OA: https://kups.ub.uni-koeln.de/70468; urn:nbn:de:hbz:38-704681
Sarah Lang, Ursula Gärtner: Grazer Repositorium antiker Fabeln (GRaF, 2017–2019) (190-192)
OA: https://kups.ub.uni-koeln.de/70469; urn:nbn:de:hbz:38-704692
Verena Lorber, Joseph Wang-Kathrein: Franz und Franziska Jägerstätter Edition (193-195)
OA: https://kups.ub.uni-koeln.de/70470; urn:nbn:de:hbz:38-704703
Oliver Matuschek, Christopher Pollin, Lina Maria Zangerl: Stefan Zweig digital (196-197)
OA: https://kups.ub.uni-koeln.de/70471; urn:nbn:de:hbz:38-704716
Frederike Neuber: Stefan George Digital (198-199)
OA: https://kups.ub.uni-koeln.de/70472; urn:nbn:de:hbz:38-704720
Helmut Neundlinger, Selina Galka: Karl Wiesinger: Digitale Edition der Tagebücher (1961–1973) (200-202)
OA: https://kups.ub.uni-koeln.de/70473; urn:nbn:de:hbz:38-704732
Werner Petermandl, Elisabeth Steiner: Celtic Divine Names in the Inscriptions of the Roman Province Germania Inferior (203-204)
OA: https://kups.ub.uni-koeln.de/70474; urn:nbn:de:hbz:38-704741
Claudia Resch: ABaC:us — Austrian Baroque Corpus (205-208)
OA: https://kups.ub.uni-koeln.de/70475; urn:nbn:de:hbz:38-704754
Claudia Resch, Nora Fischer, Dario Kampkaspar, Daniel Schopper: DIGITARIUM — Das Wien[n]erische Diarium digital (209-212)
OA: https://kups.ub.uni-koeln.de/70476; urn:nbn:de:hbz:38-704768
Sabine Seelbach: Virtuelle Benediktinerbibliothek Millstatt (213-216)
OA: https://kups.ub.uni-koeln.de/70477; urn:nbn:de:hbz:38-704770
Thomas Wallnig: Die gelehrte Korrespondenz der Brüder Pez (Hybridedition) (217-218)
OA: https://kups.ub.uni-koeln.de/70478; urn:nbn:de:hbz:38-704786
Appendix
Biographical Notes